Venue
The lecture theater for BSR14 will be Palaestra et Odeum which is located on University Square and owned by Lund University. The building was designed by Helgo Zettervall and built in 1883. Previously, the botanical gardens were situated on this site and behind the facade lie the remains of the Orangery that once stood here dating from the mid-18th Century. Originally, the building housed a gymnasium and Choir halls, however, these were destroyed after a fire in 1980 and replaced by an auditorium.
Palaestra is located next to the main building of the University, in the center of Lund.
The reception, lunches and poster sessions are at AF Borgen, the main building of the Academic Society, a historic building in the centre of Lund.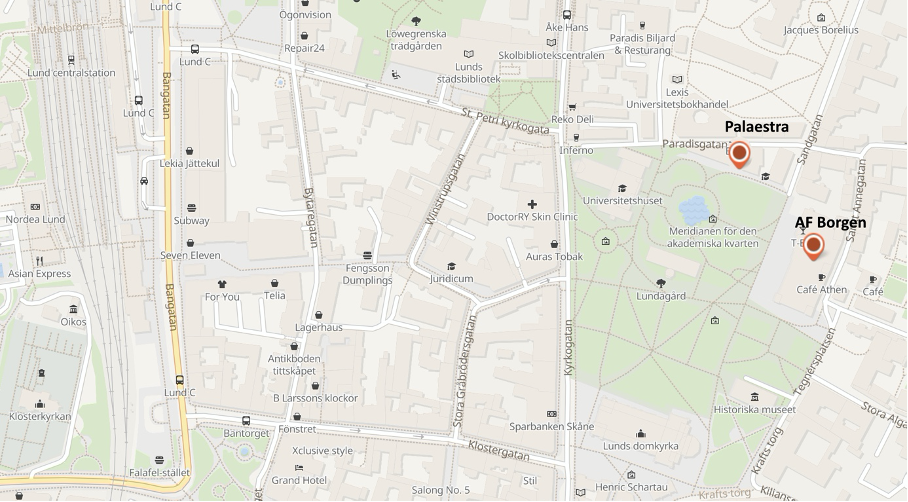 How to travel to Lund
The closest international airport to Lund is Copenhagen Airport (Kastrup) in Denmark. Transport from the airport to Lund is best by train which takes about 35 minutes from the airport. Every 20 minutes there is a train connecting to Lund. Train tickets from Kastrup to Lund C can be purchased from:
The Swedish Skånetrafiken ticket machines.
Through the Skånetrafiken app (check your appstore).
The Danish DSB ticket machines or DSB ticket office in the arrivals hall at Copenhagen Airport.
While traveling in Lund (the green city buses and tram) you can use contactless payment to pay for a ticket, read more here:
Skånetrafiken – Köp biljett (in the upper right corner you find a globe with the text "Översätt" or "Translate", pick "Engelska" for English)
Please note that you need to buy the ticket before you enter the train and you cannot purchase a ticket on the train. There are border controls between Denmark and Sweden and valid identification such as a passport or an European standard ID card is required.
Groups of two or more people will receive a discount if buying the "Duo"/"Family"/"Together" type of ticket.
The closest airport in Sweden is Malmö Airport. From Malmö Airport, there are coaches called "Flygbussarna" to Malmö C, where you can then take a train to Lund C.
Accomodation
The city of Lund has a compact centre with a number of hotels within walking distance of the conference venue. Below is a list of available hotels. Please be aware that the month of June is a busy month in Lund and early booking of a room is advisable.
Zone = How close to the city centre = Zone 1 in the centre of Lund
QC = Quality Category, 5 = highest

Zone 1
Forenom (QC 3)
Grand Hotel (QC 5)
Hotel Bishops Arms (QC3)
Hotel Concordia (QC 4)
Hotel Lundia (QC 5)
Hotell Nordic Lund (QC longstay)
Zone 2
Clarion Collection Hotel Planetstaden (QC 4)
Hotel Finn (QC 3)
Radisson Blu Hotel Lund (QC 4)
Scandic Star (QC 4)
Zone 3
Elite Hotel Ideon (QC 4)
Hotel Djingis Khan (QC 4)
On Visit Lund there is a visitors guide where you can find all hotels and more.